Bullet-In # 49



Issued: January - March 2004

Contents:

News Update by Anthony Robins - A regular round-up of news from Japan over the past three months.
Tobu Freight Services Discontinued by Paul Robins - A short history of freight operations on the Tobu Railway coinciding with the discontinuation of freight in September 2003.
Japanese Stations - The Good, the Bad and the Ugly (Part 3): Shinagawa Shinkansen Station by Martin Guest - Part 3 in this series reports on the newly opened Shinagawa Shinkansen station in Tokyo, which opened on 1 October 2003.
Japanese Rail Restaurants (7): London Pub Railway Tavern by Oliver Mayer - Part 7 in this series of reviews of railway-oriented restaurants looks at the London Pub Railway Tavern inside JR Ikebukuro station.
JR Rolling Stock Round-Up: Shikoku by Peter Dibben - A mini-feature following on from the special Kyushu feature in Issue 48. This article describes the rolling stock currently to be seen on JR line in Shikoku.
JR Lines on Shikoku by Colin Brown - A summary guide to all the JR lines in Shikoku, with information on routes and lengths.
Old and new railways in Shikoku by Colin Brown - A comparison of Shikoku in the immediate post-war period and the present day, detailing new lines built and those that are now closed.
Japanese Rail Museums (18): Nagoya Municipal Transportation Archives by Oliver Mayer - Part 18 in this long-running series looks at the Nagoya Municipal Transportation Archive. This museum is also the venue for the monthly meetings of the Nagoya section of the Japan Tramway Society and the International Railway Society of Japan.
To the North Face of Fuji-san by Colinn Brown - A trip report on a ride over the Fuji Kyuko railway, which runs from the JR Chuo Line to the northern side of Mt. Fuji.
Auld Lang Syne and Japan's Sayonara Ceremony by William Pearce - An article describing the use of the song Auld Lang Syne in farewell ceremonies in Japan, together with comments on some particularly memorable railway farewells.
Comments on Manchuria locos by William Pearce - Additional information on the Japanese streamlined steam locomotives used in Manchuria before the Second World War.
Tazawako Trip Report by Ed Tremaine - A winter's journey on the Akita Shinkansen to sample an onsen (hot spring) in Tazawako.
Electrification in Japan by Oliver Mayer - A summary of the non-standard electrification systems used across Japan.
JRS Shop and Library - A list of books and videos on Japanese railway subjects which can be ordered directly from the JRS in the UK.
Model-in: Model Preview by Dave Fossett - A preview look at some of the N gauge models from the major manufacturers recently or about to be released in Japan.
Model-in: Tokyo Area Model Shop Update by Dave Fossett - An article describing a number of notable new model shops that have opened in Tokyo and Yokohama during the past year.
Bullet-In Index 2003 Compiled by Colin Brown - An index covering the four issues of Bullet-In published in 2003.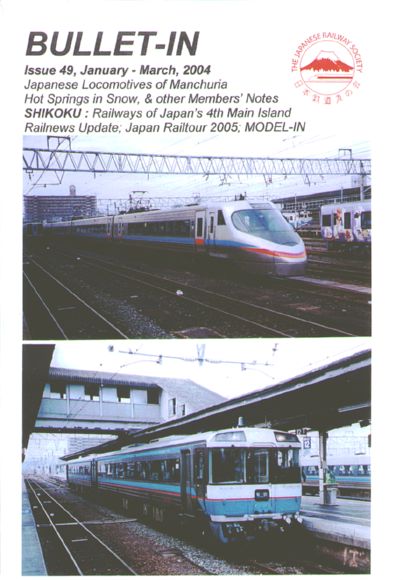 Front cover: T
op: JR Shikoku's type 8000 express at Matsuyama depot. Note, also, official graffiti (runs the full length of 2 cars) on adjacent type 2000 DMU. Both types have active tilting to pass curves at higher than normal speed. Bottom: A Kiha 183 set arrives at Matsuyama from Uwajima. Both photos by Peter Dibben.