Bullet-In # 47



Issued: July - September 2003

Contents:

Waterfront Lines in Tokyo and London (2): Tokyo Waterfront Railway
Glover's 1865 Nagasaki train
News Update
Coping with Kōbe and Kyōto
What's in a name - The Shinkansen (2)
Tōbu Railway developments
Driving a tram in Toyohashi
Early stream on the Sanyō Line
C 56, the "Highland Pony" (2)
Riding the World's Fastest Train
Japan Tramway closures
You are only a train buff if...
Model-In: Developments in Japanese HO
Model-In: Streamlined Steam Locomotives
Model-In: The Permanent Way (3)
Model-In: Model Preview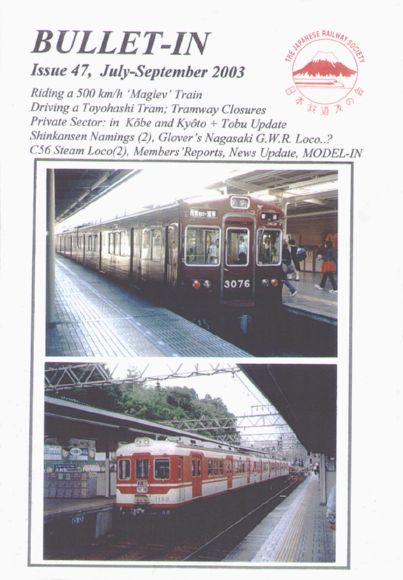 Front cover: Top: Hankyu Railway, it's traditional warm colour stilol unchanging over many years. Nishinomiya - Takarazuka shuttle at Nishinomiya terminus, 18 October 2002. Photo by Coloin Brown. Bottom: Kobe Railway, Attanigami rapid service to Sanda, 16 October 2002. Photo by Colin Brown.