Bullet-In # 44



Issued: October - December 2002

Contents:

Special issue on Mountain Railways
Railway Scenery
The Tateyama Sabo Works Project
Nagasaki Switchback
The Sakuradani Light Railway
Night trains - and how to use them
The Best Railway in the World? (A swiss view to Japan)
Japanese Stations (1): Tokyo, Japan's most famous station
Japan re-visited 2002 (1)
JR Locomotive Stock Analysis (1)
Restaurants (6): Daishoan on the old Tama-den
Signals (3): Repeater Signal, Runaway Safety Spur, Accidents
VVVF or the three phase AC electric drive (2)
Model-In: DD 13 Diesel Locomotive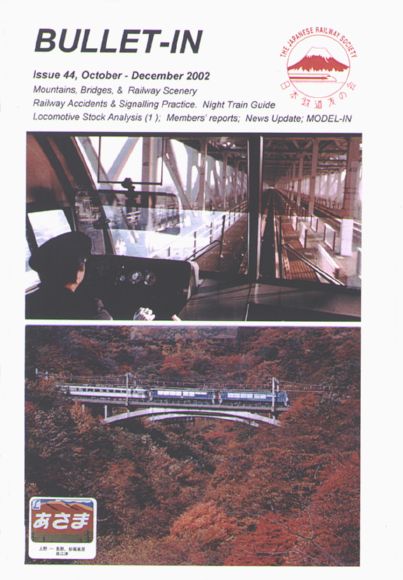 Front cover: Top: Seto Ohashi bridge, JR Shikoku EMU Okayama - Sakaide, 90 km/h, 15:45 February 1999. Photo by Richard Tremaine. Bottom: Autumn colours of the Shin Etsu line with 'Asama' ascending the Usui pass (Usui Toge), 3 November 1996. Train headboard inset indicates Ueno (Tokyo) - Nagano. Through route closed 1997. 489 class EMU and EF63 locos can be boarded at 'Poppo Town' museum in Yokogawa. Photo by Minoru Shinozaki.