Bullet-In # 35

Issued: July - September 2000

Contents:

Route signaling and speed signaling
Rail Museums (8): Hiroshima
DD51 commuting in Kyushu
Sailing to Shikoku
Tobu (1)
My first trip in Japan
Four hotels in five nights
On Top of the World - Reflections on a Recent Trip to Japan
Technical Development Plan of Superconducting Maglev
Shuzenji Romney Railway in Niji-no-Sato, Rainbow Country
Sister Museum Agreement (York/GB and Osaka,Kyoto/J)
Model-In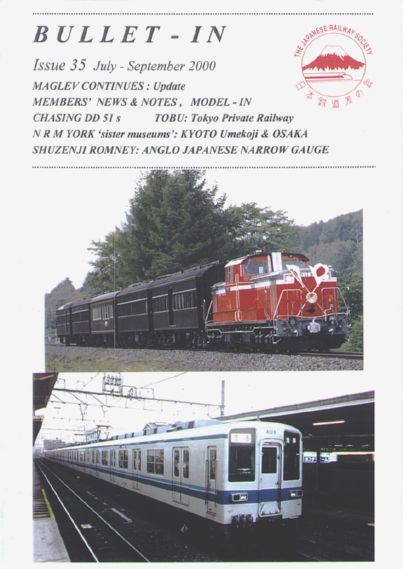 Front cover:
DD51 842 heads Imperial Royal Train: European Royal Family visit to Japan, October 1997, Kamaishi Line (near Hanamaki, N.E. Honshu) Photo by Kiyoshi Shinoizawa / Hiroshi Naito group (top), Tobu 8000 series, from Kasukabe, arrives at Ichinowari, April 2000. Photo by Richard Tremaine.