Bullet-In # 33

Issued: January 2000

Contents:

Feel the Breeze through the Open Window
Temples, Pagodas and Castles - in despair?
Farewell Kambara Railway
The Onoda Line and its Single Car Train
Railways in Karafuto
Subway Construction in Japan
Rail Museums (6): Tokyo Subway Museum
Long station names
Japan's Railway Ships (2)
A ferry through the Inland Sea
Swiss Locos with Japanese Names
Railways on Stamps
Model-In: Yokogawa and Karuizawa stations on the Shin'etsu Line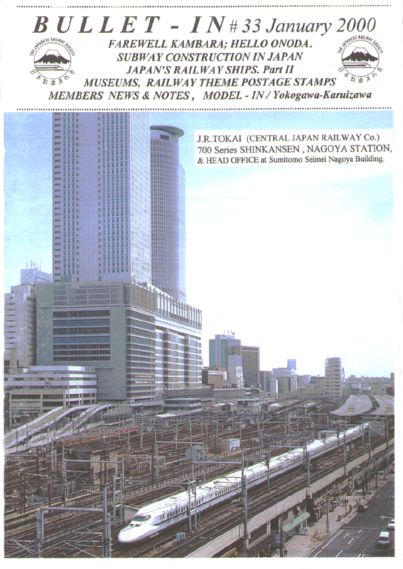 Front cover:
JR Tokai 700 Series Shinkansen, Nagoya Station and JR Tokai Head Office. Phot courtesy of JR Tokai London Office.